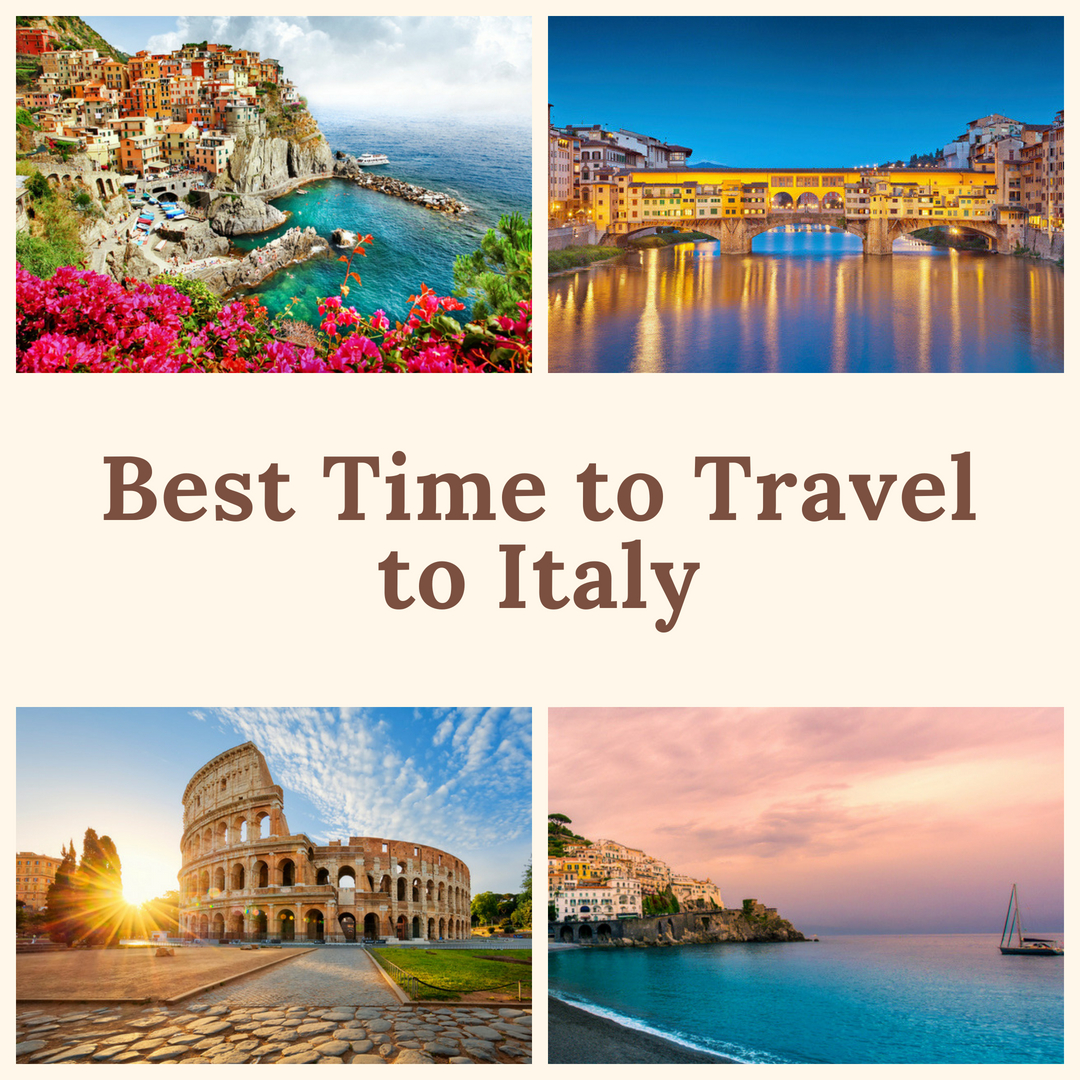 Best Time to Travel to Italy
There are a few factors to consider when trying to plan the best time to travel to Italy. Are you visiting to go sightseeing and explore Italy's rich history and culture? Are you visiting Italy for its famous shopping and sales? Or are you interested in going to lots of festivals and eating local specialties? This article outlines the best times to visit Italy for whatever the purpose of your visit. In general, the best times to visit Italy are during the spring or fall due to less crowds and moderate weather. But no matter what time of year you visit, each season has something truly special to offer!
Spring: Best Time for Sightseeing
The best time for sightseeing and visiting Italy's most famous attractions is springtime.
This is when the weather is generally very pleasant throughout the peninsula-- the average temperature in the mid 60s Fahrenheit with less chance of rain-- making it the ideal time for hiking the Italian Alps or visiting Italy's countless museums, parks, and attractions. Tourism is not at its peak yet, so you can find great deals and discounted rates during spring as well. Due to the pleasant weather and smaller crowds, spring is arguably the best time of year to visit ever-popular historic sites like the Roman Colosseum or the ruins of Pompeii, which can otherwise be very crowded and difficult to maneuver during peak travel season. Spring is also a perfect time to visit Venice and take a romantic gondola ride through its famous canals.
One major event to take note of during the spring months is Holy Week, or Semana Santa, leading up to Easter celebrations. The Pope leads Easter mass at Saint Peter's Basilica in the Vatican-- an event attended by thousands of visitors every year. Travel tip: admission to all state-run galleries, museums, ruins, and parks is free on the first Sunday of the month, making it a great day to squeeze in visiting as many sites as possible.
Summer: Best Time for Shopping
Italy's peak tourist season is during the summer months, from June through August. During the summer, visitors will encounter hot and humid temperatures, large crowds of tourists, and higher rates. If you must travel to Italy during the summer, it's a good idea to avoid the big cities such as Rome, Venice and Florence-- which will be crowded with holidaymakers-- and explore the smaller Italian villages. The Roman Colosseum, one of the most popular tourist attractions in all of Italy, is especially busy in the summer months. Travel tip: early morning or nighttime are your best bets for visiting the Colosseum during the summer. Night tours of the Colosseum are available and are usually more intimate and allow access to areas that are typically closed during the day.
The best part about visiting Italy during the summer months is the sales that take place in July and August. Sales, or saldi, are a major event taking place in Italy in the summer and winter. You can find great deals on famous Italian designers in the shopping outlets of Milan, Rome and Florence. Discounts start at anywhere from 5 to 50 percent off-- going to as high as 70 percent off later in the sales, but inventory will be more scarce. Travel tip: the majority of Italian locals go on vacation in August; while you can usually find discounted rates in the month of August, many smaller, family-run venues close down or have limited hours of operation during this month.
Fall: Best Time for Food & Festivals
The fall months are also one of the best times of year to visit Italy. As the searing summer temperatures begin to drop, the crowds of tourists begin to subside. You can also find discounted rates during the autumn months. Fall is the best time to eat your way through the boot of Italy, as there are numerous local food and wine festivals, called sagres. You can sample the recent harvests of everything from truffles, chestnuts, grapes, olives, and porcini mushrooms to indulgent chocolates, wines, and much, much more!
Fall is also a great time to go sightseeing: the Italian countryside is painted with autumn colors. Note: fall is also rainy season in Italy, so it's a good idea to bring an umbrella on your adventures. In November, much of the floating city of Venice floods for half of the day or longer. If a gondola ride on the canals of Venice is high on your to-do list in Italy, you may want to visit during a different time of year.
Winter: Best Time for Sports (and More Shopping!)
Winter in Italy is generally less crowded with tourists, with the exception of Christmas and New Years festivities. During the winter, you will find the lowest rates and fewer tourists compared to the rest of the year. Weather is generally cold and wet, with snowfall almost guaranteed in the north and central parts of the country. You will see larger crowds of tourists near the mountain resorts, where the snowy conditions are perfect for skiing, snowboarding and other winter sports.
Winter is also a wonderland for shopaholics in Italy. In December, there are numerous German-style Christmas markets throughout northern Italy, where you can find artisanal gifts as well as a variety of local delicacies. In January, the winter sales begin and continue into February with deeper discounts. Carnival is also one of the biggest events in the country, and typically takes place around February. Carnival marks the period before Lent and is celebrated throughout the country, with the most well known-festivities taking place in Venice. In a tradition dating back to the 12th century A.D., the entire city transforms to a living theatre with elaborate costumes, masks and revelry. And if you can brave the cooler temperatures, winter is also one of the better times of year to take a gondola ride on Venice's canals. The canals are less crowded and you will be rewarded with a more intimate ride.